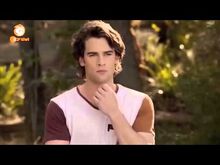 Wesley Cooper, plus communément connu sous le nom de Wes est un chorégraphe qui travaillait pour une compagnie de ballet espagnol. Sa première apparition est dans "Fake it until you make it", il avait une relation avec Abigail alors qu'elle était à Barcelone, mais Abigail ne mentionne pas cela parce qu'elle se sentait incroyablement coupable pour être avec lui juste après la mort de Sammy. Cependant, Wes n'était pas au courant du lien fort qu'Abigail et Sammy partagaient.
Il finit par être le petit ami d'Abigail à sa grande satisfaction.
Ad blocker interference detected!
Wikia is a free-to-use site that makes money from advertising. We have a modified experience for viewers using ad blockers

Wikia is not accessible if you've made further modifications. Remove the custom ad blocker rule(s) and the page will load as expected.