"New Rules"

Season 3, Episode 2

Information
Aus. Airdate

July 15, 2013

Episode Guide
Previous

"Glue"

Next

New Rules is the second episode of Season 3 of Dance Academy. It premiered on July 15, 2013 in Australia.
The gang are back for Year 3. The company comes to audition for a step in role in Giselle. Christian is nowhere to be seen. Tara, Grace and Ben are chosen to perform in Giselle and Tara is surprised to see Saskia. They hold a surprise birthday for Abigail, who is feeling upset after being told by Rebecca that she would never make it into the company. After the party it is shown that Kat doesn't eat her cake and goes into the bathroom. It is revealed later that Kat has bielema. Ollie is finding it hard to accept he didn't make it into the company and is re-doing the third year. Grace is finding it hard to fit in and is getting iced out by Tara.
Cast
Video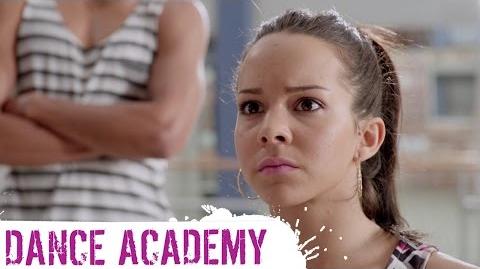 Ad blocker interference detected!
Wikia is a free-to-use site that makes money from advertising. We have a modified experience for viewers using ad blockers

Wikia is not accessible if you've made further modifications. Remove the custom ad blocker rule(s) and the page will load as expected.