"Negative Patterns"

Season 3, Episode 5

Information
Aus. Airdate

August 5, 2013

Episode Guide
Previous
Next

Negative Patterns is the fifth episode of Series 3 of Dance Academy. It premiered on August 5th 2013 in Australia.
Episode Overview
With the Company's Sydney season of Giselle coming to an end, it's almost time for Grace, Tara and Ben to give up their temporary places. However, Saskia has different plans for her protégé, Ben, and arranges a special audition with the Company's artistic director.
Meanwhile, Grace's world implodes when she's rejected by her new friends and Miss Raine confides that her new romance with Marcus has become more serious. Plus, Zach continues to give Christian special treatment by allowing him to participate in a music video Ollie is producing.
Video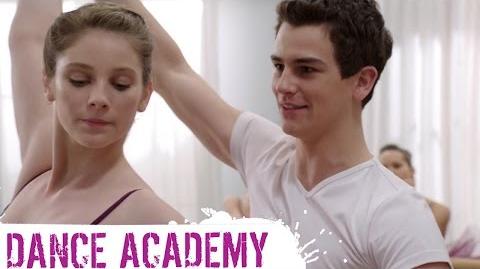 Ad blocker interference detected!
Wikia is a free-to-use site that makes money from advertising. We have a modified experience for viewers using ad blockers

Wikia is not accessible if you've made further modifications. Remove the custom ad blocker rule(s) and the page will load as expected.