"Moving On"

Season 2, Episode 15

Information
Aus. Airdate

April 4, 2012

Writer(s)

David Hannam

Director(s)

Michael James Rowland

Episode Guide
Previous
Next

"Origins"
Episode Overview
Ethan is offered the chance of choreographing a fringe musical, for which he recruits Abigail, who also practices singing for the role. Tara arrives back at the academy, having recovered enough to present her case against Saskia. Although Miss Raine offers Tara her position again, Tara refuses to accept it as Saskia is unrepentant and denies she did any wrong. After the second-year dancers become hostile and make sarcastic remarks to Saskia, she resigns and heads home to Perth. Despite still not apologising to a returning Tara, Saskia tells her she'll be jealous of new dancers one day, too, but Tara says she will never do what Saskia did, because although she loves ballet, she won't let it destroy her. After Ethan is offered a job opportunity in Barcelona, the gang throws a farewell party on a yacht, and he bids a tearful goodbye to everyone.
Video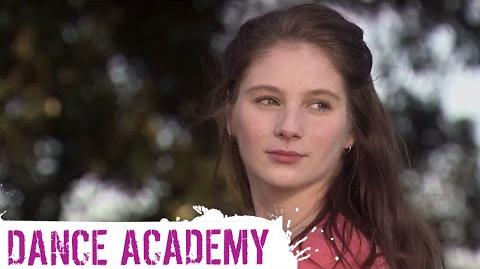 Ad blocker interference detected!
Wikia is a free-to-use site that makes money from advertising. We have a modified experience for viewers using ad blockers

Wikia is not accessible if you've made further modifications. Remove the custom ad blocker rule(s) and the page will load as expected.